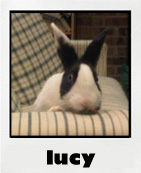 Cover-Bun, March 2011
Lucy was unavailable for comment but, through her representative, issued a statement that she is unbelievably excited and flattered. She would like to thank the judges of Bunny-Whipped.com, the Academy, Bunya & Ethel and, of course, the House Rabbit Society of North Georgia for making all this possible. Details of her world tour of personal appearances with be forthcoming.
See her Cover-Bun interview and pictures at
March Cover Bun
.
See prior winners, their interviews and family photos at
Top Bunny Models
(look for Bunya and Ethel).